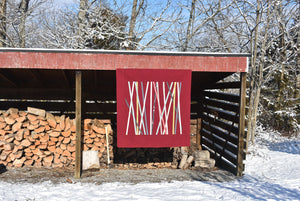 Crossing the Line
This modern lap quilt has a maroon solid background and patterned strips criss crossing the front. The quilt has been washed several times to stabilize the maroon dye and, thus, the binding looks more worn than an unwashed quilt. (See photos)  This quilt has been discounted as a few of the fabrics picked up the dye and I can not get the original color back.  
Measures:  52" x 54"
Pattern by Brigitte Heitland of Zen Chic.
Made with 100% cotton fabric and batting.
Wash separately in cool water.  I have included a Color Catcher (available in laundry department at grocery store) for you to use for the first time you wash it.  
All SWJ quilts have been laundered several times to test for color fastness and integrity.  I want you to use these quilts!  Machine wash cool and dry.