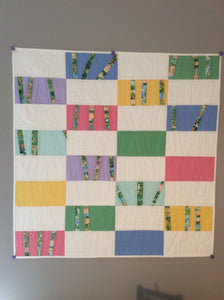 Linear Improv
This quilt is a study in lines and improvisational piecing.  The quilted lines talk to each as well as the pieced inserts across the quilt.  Linear Improv has hung in my studio for several years, and the tranquility of the colors always made me smile.  This would be suitable for a wheel chair quilt or wall hanging*.
Measurements: 35" x 34"

Design:  Sweet Waddy Jane Originals
Materials:  100% cotton fabric, 80/20 cotton/poly batting
All SWJ quilts have been laundered several times to test for color fastness and integrity.  Machine wash in cool water and dry.
*A quilt sleeve is often hand sewn on to the top of the back of a wall quilt.  A rod is inserted into the sleeve and evenly distributes the weight of the quilt as it hangs. If you would like me to add a sleeve on to a wall hanging, you need to order one and allow for 1 - 2 additional weeks for delivery.  Search for Quilt Sleeve or scroll down to the bottom of this collection.