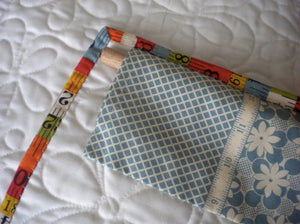 Quilt Hanging Sleeve
Quilt sleeves are sewn on to the back of a quilt so that it can be hung with a rod.  The rod distributes the weight of the quilt and allows you to hang the quilt on the wall.  A D-sleeve is the standard sleeve for hanging. The "D" shape allows the quilt to hang flat and provides "give" in the sleeve.  Sleeves will be 4" wide by the length of the quilt.   Sleeves are machine stitched when constructed, and hand stitched on to the quilt back so stitching does not go through to the front.  The diameter of the dowel or rod you use will depend on the weight of the quilt.
Please allow an extra week for your quilt as I will be putting its sleeve on it.